Coffee & Cars All Invitational in Apache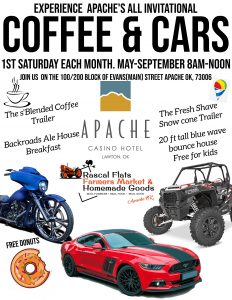 This is a fun time for the whole family!
On the first Saturday each month, May through September from 8 am to noon – see all kinds of cars, grab a snow cone or a coffee.
Find us on the 100 to 200 blocks of Evans (Main) Street in Apache, Oklahoma.
Lots To Do and See:
The s'Blended Coffee trailer
Backroads Ale House Breakfast
The Fresh Shave Snow Cone trailer
20 foot tall Blue Wave Bounce House – Free for kids
Free Donuts and more!